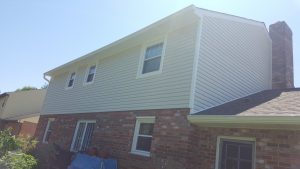 One of the most important features of your home that's often overlooked is your gutters. They serve as an invaluable purpose in transferring water from the roof and away from the foundation. Seamless aluminum gutters serve as the best standing solution when it comes to your gutters because of their low cost and there anti-rusting properties, which surely renders a lasting product at an affordable price.
We do aluminum seamless gutters, copper seamless gutters, gutter leaf guards and offer a gutter cleaning service.
What sets us apart from the rest?
We custom mitered corners.
We install Heavy duty gutter hangers.
We install 4″ downspouts.
We replace all the gutter aprons.
The types of gutters we install.
Seamless 5″ K-Styled Gutters
Seamless 6″ K-Styled Gutters
Seamless 6″ Half-Round Gutters
Home Siding Installation, Repair, and Supply
Vinyl Siding
Vinyl siding is the #1 most popular choice when it comes to home siding materials. Why? Because vinyl siding is cost effective, durable, and gives the home the appearance of quality wood at a fraction of the cost. At B&R Siding, Inc. Siding Installers our vinyl siding comes in all shades and colors you could think of to give your home the look you desire. Our vinyl siding is of the highest quality in the industry and will not peel, rot, or crack and will stand the test of time.
Insulated Vinyl Siding
Just like vinyl siding, insulated vinyl siding gives your home the same quality look at an affordable price. Insulated vinyl siding however can reduce your energy bills by more than 20%! Whether you want to keep cool air in for the summer, or warm air in for the winter, call the pros at B&R Siding, Inc.
Wood Siding
Although vinyl siding is a great alternative for wood siding, nothing can give your home the classic and quality appearance of real wood siding. Our wood siding is engineered to last and withstand cracking, rotting, and peeling. We have a wide variety of wood siding available including designer shake, old mill shingle siding, cedar shake, pine, spruce and much more!
Fiber Cement Siding
Like vinyl siding, fiber cement siding is also an extremely durable home siding material. It is available in dozens of shades and colors to give your home the appearance you desire. It is manufactured to withstand harsh weather conditions. Best of all, it gives your home the authentic look of natural wood siding with added durability.
Metal Siding
Metal siding is also an extremely durable siding and can last for generations. It is also available is many styles and colors to cater to your home's appearance. It is also very cost effective. For more information give the professional home siding contractors a call today for a free estimate
Vinyl Siding Repair and Home Siding Repair
B&R Siding, Inc. offers vinyl siding repair and home siding repair services in addition to our installation services. If you just need a section of your siding repair, our professional and certified contractors can assist you. Call us today for a free repair quote.